2023 Ultimate Guide To Work From Home For HCPs (Updated)

18

min read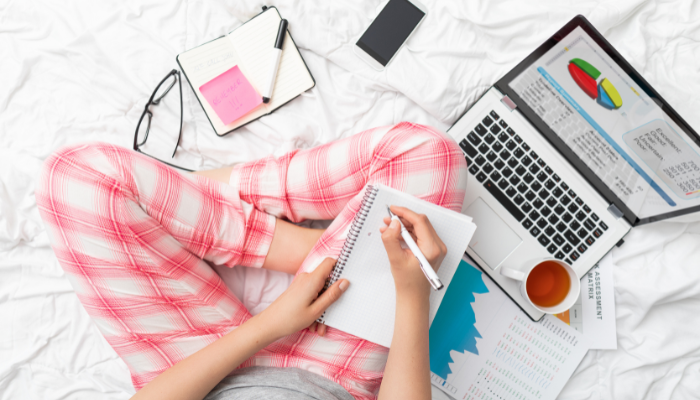 2023 Work from home is a myth or can be a profitable way to earn money.
If you are a healthcare professional who is looking for ways to make extra money? If so, you may be interested in remote work?
Working from home can be a great way to earn extra income, and it can also be a great way to use your skills and free time.
However, working from home can also be challenging. As search results to find work can be difficult to find work from home opportunities that fit your skills and interests, and it can also be difficult to stay organized and productive when you are working from home.
If you are interested to find work from home, read this article to find out the Ultimate Guide To Work From Home For HCPs.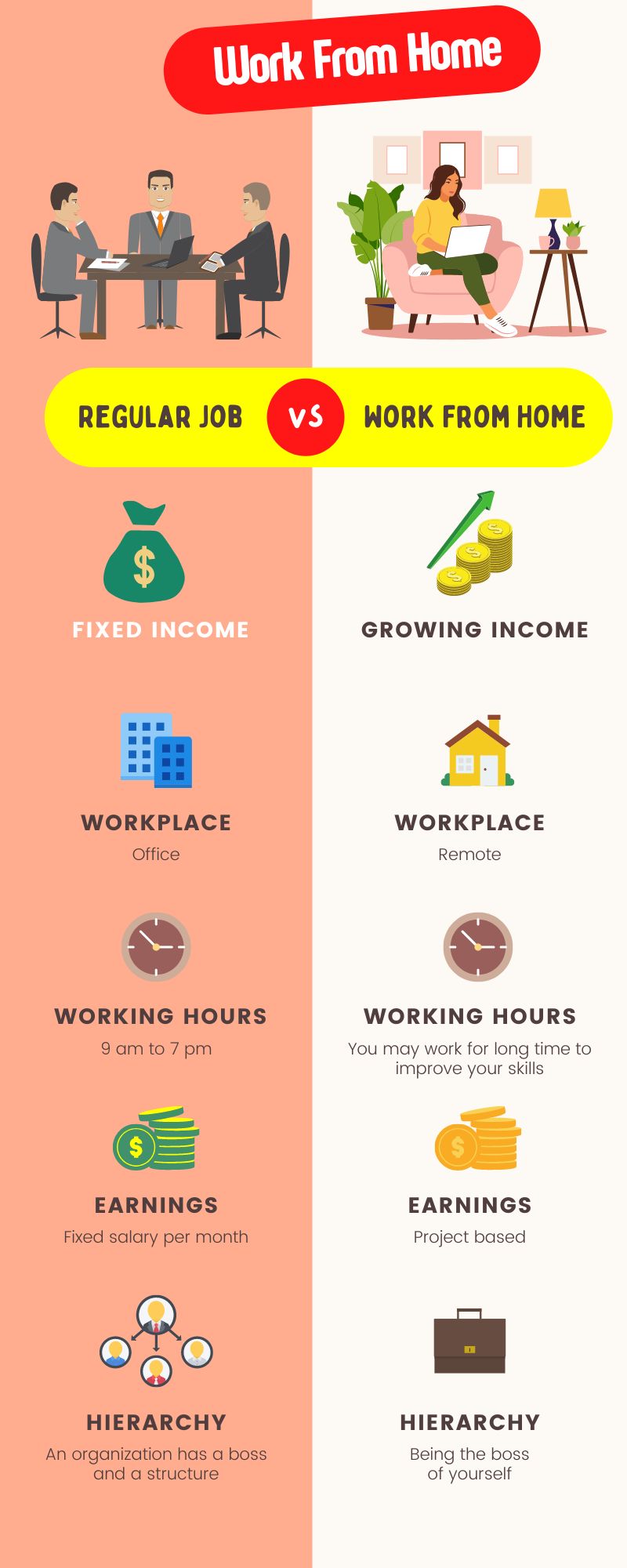 What is work from home advantages and disadvantages?
Advantages of Work from Home
-Working from home can be a great way to earn extra income.
–Working from home can be a great way to use your skills and free time.
-Working from home can be challenging, but it can also be rewarding.
-There are many benefits of home jobs, including flexibility and independence.
Disadvantages of Work From Home
-Home job search can be isolating, and it can be difficult to stay connected with friends and family members.
-Working from home can also be distracting, and it can be difficult to stay focused on work when you are working from home.
-Working from home can also be unproductive, and it can be difficult to get
How Can I Work From Home More Effectively?
Jobs can be a great way to increase productivity and focus. However, it can also be a challenge to stay on task when there are so many distractions. Here are a few tips to help you work effectively from home:
1. Establish a dedicated workspace:
It can be tempting to work from the couch or your bed, but this can make it difficult to stay focused. Instead, try to establish a dedicated workspace in your home. This can help you to create a clear boundary between work and leisure time.
2. Take breaks:
When you're working from home, it's important to take breaks throughout the day. This will help you to avoid burnout and maintain your focus. Try to step away from your work every few hours to take a walk, have a snack, or simply take some deep breaths.
3. Set regular work hours:
One of the benefits of working from home is that you have more control over your schedule.
However, this can also be a downside if you find yourself working at all hours of the day and night. To avoid this, try to set regular work hours and stick to them as much as possible.
This will help you to maintain a healthy work-life balance and avoid burnout.
Also, Keep in Mind
Whether you need to work during the day or take care of your kids while they are off from school, remote jobs are a great way to have more flexibility in your day-to-day life.
To be successful in work from home field, it is important to set up a productive and distraction-free workspace where you can stay focused on your tasks.
This may involve making sure your phone is on silent and putting up a "do not disturb" sign, as well as clearing out any unnecessary papers or clutter that might otherwise distract you from your work.
You should also focus on building good communication habits with the remote team members that you work with. This might mean taking online meetings regularly or staying in touch via email and chat throughout the day.
Lastly, make sure that you take full advantage of all the tools and resources available to remote workers, such as productivity apps and remote collaboration software.
With the right mindset and these practical tips, you can enjoy all the benefits of remote work without missing a beat!
What should you know about the Ground Rules if you want to stay productive when working from home?
If you are considering working from home, there are several key ground rules that you should be aware of.
First,
it is crucial to invest in premium health insurance that will account for any unexpected accidents or injuries.
Second,
if you are working as an independent contractor or running your own business, it is essential to take the time to build a solid reputation and gain specialized training in your field.
Finally, it is important to create clear boundaries between your work life and personal life by setting regular times for breaks or vacations as well as establishing a dedicated workspace where distractions can be minimized.
With these tips in mind, you can maintain a high level of productivity while working from home and feel confident in your ability to succeed.
Finally, Why using Productivity tools, apps, and planners is important for working from home?
There are many reasons why using productivity tools, apps, and planners is so important when starting to work from home.
First and foremost, having organized project management systems can help you stay on top of your work without feeling overwhelmed or stressed.
With the right tools in place, you can achieve a better work-life balance by lessening your workload and allowing more time for personal activities. This not only keeps you mentally healthy but also helps to develop your organizational skills and maintain focus on long-term goals.
Additionally, if you are working from home with colleagues or clients across town or even in a different city or country, using productivity apps allows you to stay connected and empowered throughout the project.
Ultimately, using these tools is critical for thriving as a remote worker and optimizing your success in today's fast-paced digital world.
What are actional steps to take for starting to work from home to stay productive while working remotely?
1- For Your Working Space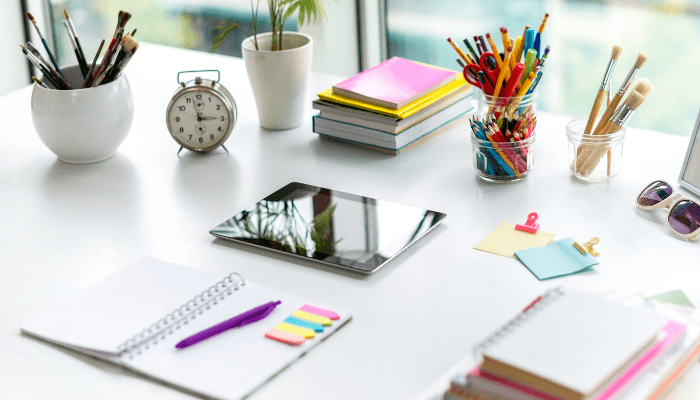 How you should set up your working space to focus more while working from home?
To set up a more productive working space when working from home, it is important to carefully consider your technology and location. First, you should eliminate all distractions such as social media or streaming video, and instead focus on more work-oriented tasks.
Additionally, you should make sure that your workspace is well-lit and has minimal clutter. At the same time, though, you should also be sure to keep any necessary technology close at hand so that you can easily access and use it as needed.
You might also want to take into account where you choose to work within your home. If possible, it can be helpful to establish a dedicated office area or even work outside if the weather is nice.
However, if none of these options are possible for you right now, then simply try to choose a room away from any potential sources of noise or activity.
Overall, by being more conscious about how you approach your working space when working from home, you can help ensure more productivity and greater success in your professional endeavors. UnitedHealth Group strongly believes in this principle and espouses it within its own business practices every day.
2- Never Disconnect For a Long Time From Your Clients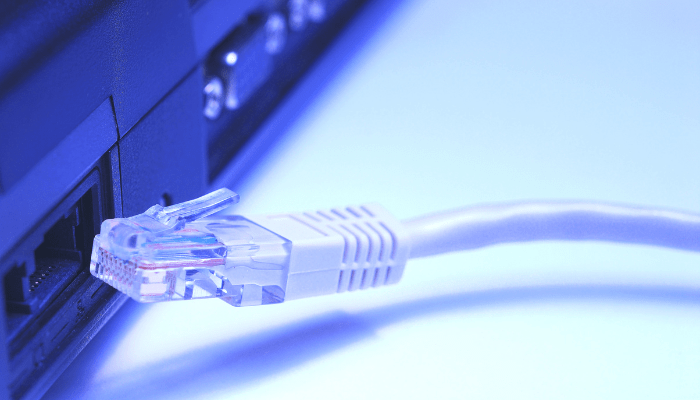 When you work remotely, it's important to never disconnect for a long period of time from your clients. There are a few reasons why this is important.
First,
it makes you seem unprofessional and uninterested in the work.
Second,
it makes it difficult to build trust and rapport with clients.
Third,
it can lead to communication breakdowns and misunderstandings.
Fourth,
if there are any problems with the work, it can be difficult to troubleshoot and solve them if you're not in regular communication with the client.
Finally, fifth,
working remotely can be a very isolating experience, so it's important to stay connected to prevent burnout. There are a few ways to stay connected with your clients when you work remotely.
You can use Microsoft Teams or another software program to have regular video or audio chats. You can also set up regular check-ins via email or phone. Additionally, try to be flexible with your work hours and make sure you're available when your clients need you.
By following these tips, you can avoid disconnecting from your clients and maintain a healthy working relationship.
3- Use Apps that are best to facilitate Work from Home opportunities
There are a number of apps that are perfect for those looking to work from home, and each one can help to make the work process more efficient and effective. One of the most popular work from home apps is called Calendar, and it allows users to easily organize work schedules, appointments, and deadlines.
It also has a great virtual assistant feature, making it easy to stay on track even when workers have multiple projects or tasks to juggle. Another useful app is called Audio Recorder, and this tool makes audio files quick and simple to create for memos or meetings.
Additionally, many business owners find that using a flexible work schedule management app like Shift Planner helps them to manage work from home processes more efficiently and effectively.
Here is a list of commonly used apps that would make working from home more efficient
1- Writing Tool get free 10,000 words to practice your skills
2- Monday
3- Asana.
4- ClickUp
5-Clockify
6- ProofHub
4- Organize Your Time to have a balanced life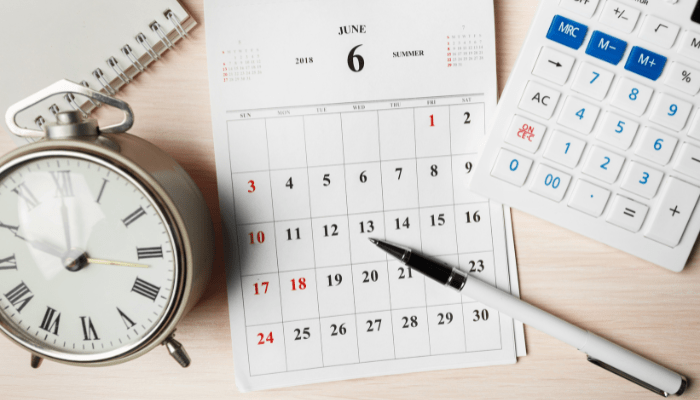 Working from home can be a great way to achieve a balanced lifestyle. By definition, flexible jobs are more likely to offer opportunities for workers to create their own schedules and, as a result, have more control over their work/life balance.
In addition, people who work from home often find that they can use their daily commute time to learn new skills or take care of personal errands, which can further improve their work/life balance.
Finally, working from home can also allow workers to take advantage of flexible work hours and structures, such as working four 10-hour days instead of five 8-hour days, which can lead to a more balanced lifestyle.
• You decide how much work you want to do each day
• You can work at your own pace at your comfort place as no more rush hour traffic
• Set your own hours for work, family, responsibilities, and life activities to have a balanced work and home responsibilities
• Balance work with the other important aspects of your life as hobbies
• Don't let work consume your life- find a work/life balance
• Stay motivated and no frustration
• Manage time effectively to have a successful career
5- You must have a hobby or workout regularly
While working from home can be a great way to balance your career and your personal life, it is important that you take care of yourself too. This means setting aside some time for regular exercise or other hobbies that can help you to stay healthy and focused.
For one thing, a flexible schedule makes it easier than ever to fit in workouts like running or yoga classes. Additionally, having a regular hobby helps you to maintain a sense of responsibility, which is essential when you're working independently.
Whether it's cooking, painting, or playing an instrument, finding the time and space to pursue your passions can make all the difference in your overall wellbeing.
So if you're looking for ways to stay healthy and productive while working from home, remember the importance of staying active and keeping yourself engaged with things that matter!
Work From Home Jobs without investment
Working from home is a great way to earn money without having to invest in a career with just already existing skills. There are many ways to make money from home, and you can find plenty of resources online to help you get started.
The best part about working from home is that you can do it on your own schedule and at your own pace. You can also set your own rates, which means that you can make as much or as little money as you want.
One of the most important things to remember when working from home is to set some boundaries. Make sure that you designate a specific area for work, and try to stick to a regular work schedule.
This will help you avoid getting burnt out and will make it easier to balance your work and personal life. Working from home can be a great way to earn money, but it's important to be mindful of the potential challenges. With a little planning and some discipline, you can set yourself up for success.
What is the list of jobs list that you can work remotely as a Healthcare professional?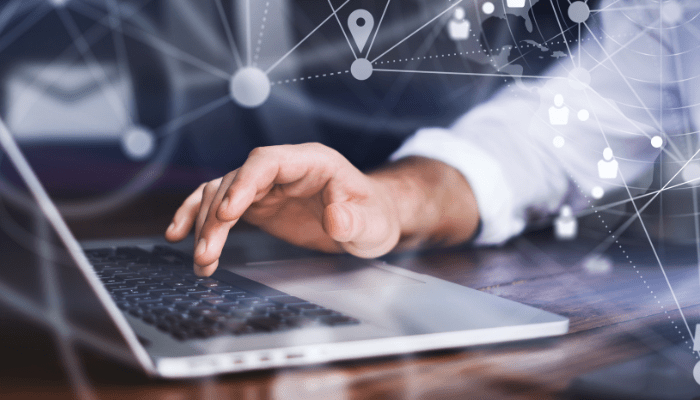 Or What jobs can I do from home as an HCPs
Here is a complete list of legit Medical jobs, Easy work from home jobs as you can work from home jobs with no experience
1- Essay Medical Writer
Pay Hour Rate: $27.00
Main Responsibilities:
you can use this virtual assistance AI writer to guide you on the most important points that you should include.
This is an important hard skill if you are going to work in Pharmacovigilance, if you want to learn more about it, just check the pharmacovigilance online course to get these certificates.
Here is a list of 15 Best AI Essay Writer Software For Original Content in 2022 you can use when writing an essay.
2- Medical biller
Pay Hour Rate: $26.30
Main Responsibilities:
As a medical biller, your primary responsibility is to work with patients and pharma companies in order to facilitate the reimbursement process.
This involves preparing and submitting claims for individual or group patients based on the prescriptions that have been provided by their pharmacist.
In addition, you will need to stay up-to-date with current regulations and compliance requirements in order to ensure that everything is done in accordance with industry standards.
At the same time, you will also be responsible for working directly with pharma companies in order to negotiate pricing terms, resolve payment issues, and solve any other challenges that may arise during the billing process.
Overall, medical billing is a challenging but rewarding career that requires attention to detail and strong communication skills.
If you are interested in entering this growing field, then be sure to invest in ongoing professional development and build a network of contacts who can provide guidance along the way.
Whether you ultimately choose to work as an independent biller or join an established organization, there are many exciting opportunities available within the medical billing space. Good luck!
3- Data Entry for Clinical Institutes
Pay Hour Rate: $17.35
Main Responsibilities:
Clinical data entry associates are in charge of gathering information from patients concerning their medical history and clinical studies.
Also, other tasks can include Virtual assistant and Data entry responsibilities.
4- Case manager
Pay Hour Rate: $38
Main Responsibilities:
Case managers are responsible for assessing the needs of their clients, planning how best to meet those requirements, and monitoring progress.
They also evaluate outcomes on an ongoing basis so that necessary adjustments can be made if needed in order to achieve desired results.
5- Health information technician
Pay Hour Rate: $22.30
Main Responsibilities:
Duties of health information technician
Track treatment and follow-up information for individual patients. Organize and update information in healthcare software and registries. Categorize important data to make it easier to find and analyze.
Performing data analysis to support the management team or management team.
6- Project manager of Clinical Trials Study
Pay Hour Rate: $33
Main Responsibilities:
Building up an arrangement or convention, deciding which tests to perform and how as often as possible to manage them to meet logical benchmarks and government controls.
7-Medical transcriptionist Position
Pay Hour Rate: 14.47 $
Main Responsibilities:
Listen to the recorded dictation of a health practitioner or different healthcare worker.
Interpret and transcribe the dictation into the affected person's history, examination notes, operative reports, referral letters, discharge summaries, and different documents.
8- Clinical Research Position
Hour Rate: $37.22
Main Responsibilities:
Essential duties incorporate overseeing clinical trials and collecting information, illuminating members' approximate ponder targets and regulating surveys.
9- Pharmacovigilance Officer
If you want to learn Pharmcavogilance check out our Pharmacovigilance Online Courses
Hour Rate: $15.00
Main Responsibilities:
collecting, recognizing, and avoiding unfavorable impacts (AEs) in patients who take unused drugs and other pharmaceutical items
10- Clinical Research Coordinator Position
Hour Rate: $37.00
Main Responsibilities:
arranging and administration of the consider, enrollment, upkeep, preparing activities, and keeping up compliance with government, state, and organization
11-Patient Consulting Pharmacist in Physician clinic
Hour Rate: $59.00
Main Responsibilities:
perform medicine regimen surveys based on a patient's well-being history to assess the fittingness, security, benefits, dangers, and cost-effectiveness of medical treatment.
12- Intake RN / Clinical Reviewer Position
Hour Rate: $37.00
Main Responsibilities:
Reviews incoming physicians' orders and other clinical documents
• Collaborates with physicians, nurses, and discharge planners to identify patient care needs and to establish the appropriate level of care for patients referred to the Agency
• Ensures that the needed DME, medical supplies, and ancillary services are ordered and documented
• Demonstrates a high degree of commitment to customer relations and quality service
• Utilizes community resources as appropriate to meet patient care needs
13- Medical Researcher Position
Hour Rate: $21.84
Main Responsibilities:
full-cycle medical research conduction and publication.
14- Pharma primary research
Hour Rate: $57.00
Main Responsibilities:
Human Source Information Gathering: the collection of the market, competitor, and stakeholder evidence through phone-based interviewing and elicitation
– Conduct desk-based secondary research using a wide variety of sources, including but not limited to MOH, government websites, articles, and commentaries.
15- Medical German Copywriter / Medical Translator EN-DE
Hour Rate: $40.00
Main Responsibilities:
Medical copywriting + medical translations EN-DE
Where to find healthcare companies that can hire remotely?
When looking for healthcare companies that can hire remotely, it is important to consider a range of different factors. First and foremost, you will want to look at the size and status of the company in question.
Some smaller healthcare providers may not have the resources or infrastructure to allow employees to work from home.
In contrast, larger companies that have specialized human resources departments and project managers are more likely to have robust remote working programs in place, as they understand the benefits of telecommuting for employees and employers alike.
Additionally, you should explore which job roles can be done remotely; this will help you decide whether or not the company is a good fit for your needs and skill set.
Ultimately, finding healthcare companies that can offer employees flexible work arrangements is possible with little time and effort. Good luck!
Here is how to find a remote job:
Pharmaceutical Companies
Finding remote jobs in the pharmaceutical industry can be a bit tricky, as many companies still require employees to work out of an office. However, there are some steps that you can take to increase your chances of finding a remote position.
One important thing to do is reach out to current employees or employers at different companies to get an insider's perspective on what it takes to secure such a position.
Additionally, it is important to stay up-to-date with the latest trends and technologies in the field so that you can demonstrate your skills and expertise.
Finally, it is vital that you have a strong network of contacts who are always willing to refer new opportunities your way.
With these tips in mind, you can increase your chances of finding a remote job within the pharma industry and enjoy all the benefits that come along with it!
Just search their career website page
1 – Atara Biotherapeutics
2- CVS Health
3- GoodRx
4- Jazz Pharmaceuticals
5- Parexel
Other Companies such as:
Upwork
Indeed
Monster
Glassdoor
Flexible
For 30+ Best Job Search Engines & Boards for Finding a Job 2022
Disclaimer:
1- The source of this information is Google
2- I may get a small commission as support from promoted tools in this article.
Conclusion
Working from home can provide a number of benefits for healthcare professionals, including increased flexibility and work-life balance.
Just list down your soft skills & hard skills to know which job can fit with your skills without learning anything just use the skills you already have.